Katteb
An innovative, revolutionary AI writer that quickly and accurately provides fact-checked, real-time, and localized content.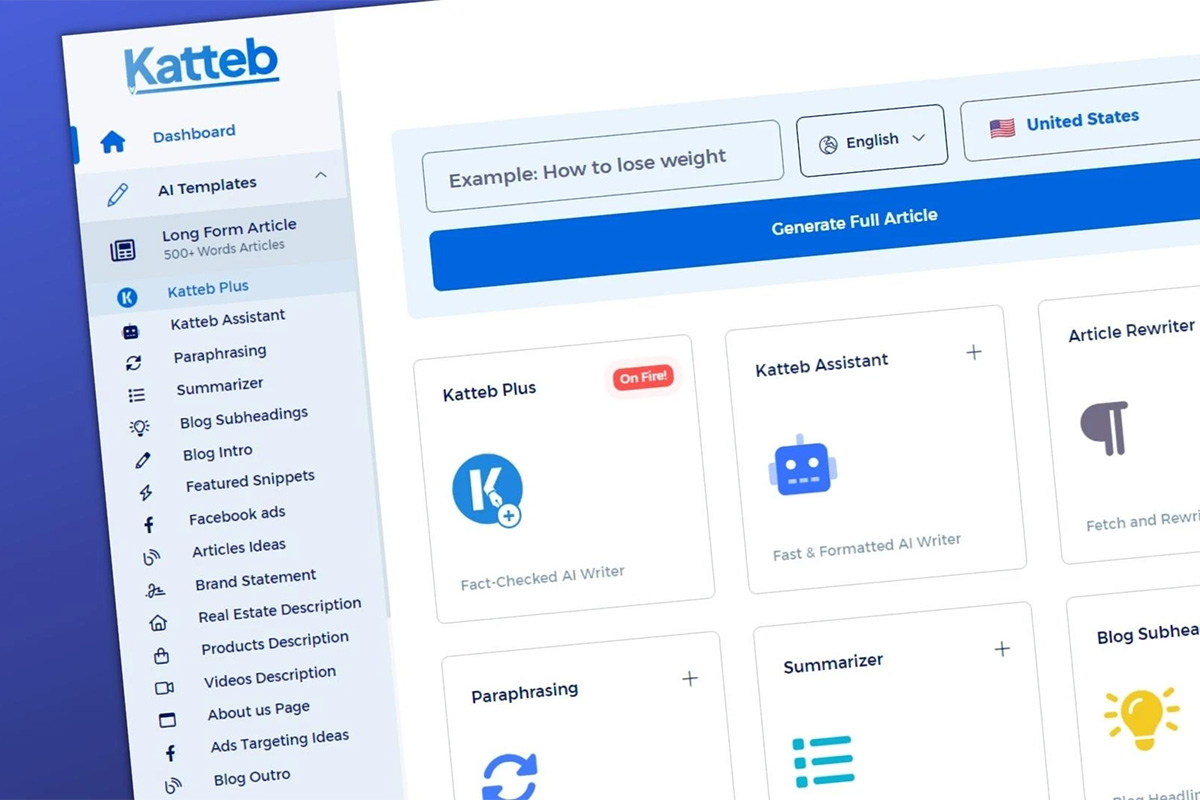 Katteb is a cutting-edge AI content writer who helps tackle the continuing challenges of producing high-quality, readable, fact-checked, and fresh content. It uses advanced algorithms to scan the web for relevant resources and provides a fully automated solution for reliable and timely content without needing manual editing or review.
Katteb's algorithm scans through multiple reliable sources to ensure any piece of content. This feature allows Katteb to produce definite articles incredibly quickly, giving media outlets unprecedented capability for timely reporting on local stories.
The Katteb AI content writer also ensures that each piece of content goes through a rigorous fact-checking process before utilization. As a result, it is undoubtedly an intelligent choice for businesses seeking to gain a competitive edge in their respective industries with speed and accuracy.
This tool is consistently working to improve its technologies to address persistent challenges, ultimately providing valuable and relevant. Its goal is to revolutionize how businesses create and deliver digital content – allowing them to focus on more pressing matters such as developing innovative strategies.
Their new templates are live and released weekly, giving users access to all creative tools. This tool is dedicated to consistently updating its features and offerings, with a significant update coming out each month. All Katteb users should be sure to keep up with the latest releases, as they are sure to make their writing experience more efficient and enjoyable.
Katteb's lifetime deal on Appsumo offers incredible value for a very affordable cost – just $29! This exclusive offer allows you to access cutting-edge technology and ensure that all your written materials live up to the highest standards of accuracy and reliability in only a few clicks – take advantage of this fantastic opportunity.
Meet Katteb
TL;DR
It provides an automated yet reliable way for outlets to publish their content quickly without sacrificing accuracy.
Alternatives to: Copy.ai, Jasper, WriterZen.
This offers automated content creation with a stress-free editing process, making writing tasks faster and more efficient.
Best for: Bloggers, Content creators, Copywriters.
Key Features of Katteb
Automatic Articles Rewriting
Full Article Paraphrasing
The problem, Agitate, and Solutions
Product Descriptions
Facebook Ads and Google Ads
Features included in All Plans
Automated Fact Checking
Real-Time Content Generation
Localized Content Writing
Long Form Article Writing
Automatic Proofreading Engine
Instant Full Article Rewriter
Content Enricher & Expander