Labrika
Highly mixed AI, an all-in-one SEO tool that checks over 200 critical ranking factors and provides actionable solicitation to gain traffic and customer conversions.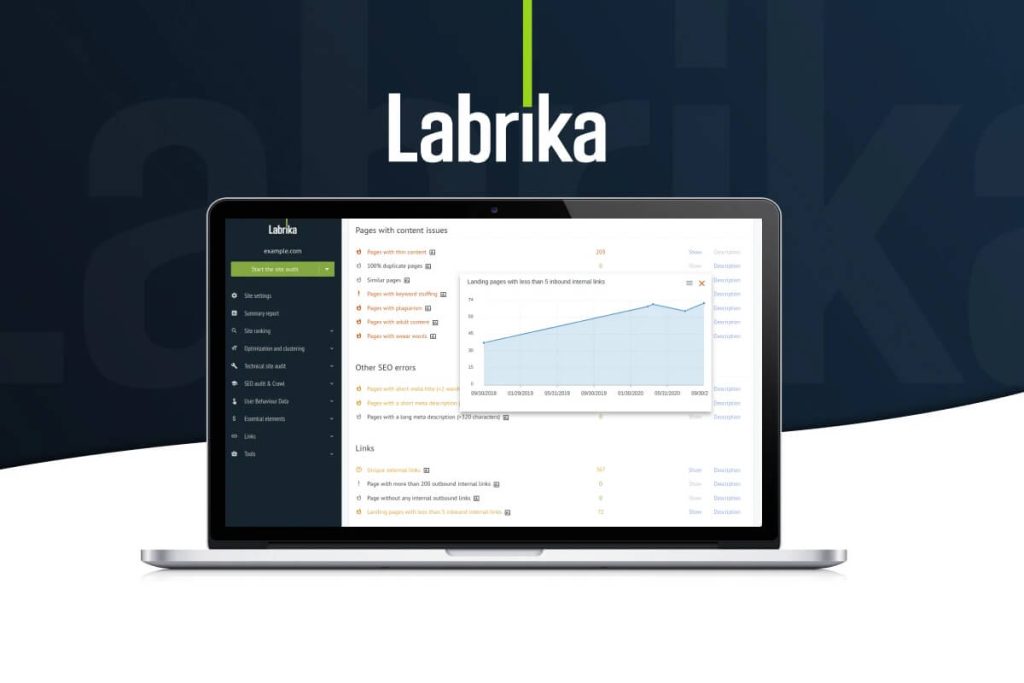 Labrika is one of the tools you need to get your website to the top of the search engines. Plus, it's compatible with all major search engines, so you'll be able to get the most out of your experience.
This is the fastest, easiest way to improve your website's SEO. With this tool, you can quickly get real-time insights into what's working and fix on-site issues. It provides actionable recommendations so you can lead with confidence.
This tool analyzes the site's SEO health, including link building, on-page optimization, and social media engagement.
It is also easy to use, making it a great choice for novice users. In addition, Labrika provides a competitive analysis of your top competitors to see where you need to improve.
Finally, Labrika is an excellent choice for anyone needing an audit tool that provides comprehensive data about a website's SEO performance.
It is a valuable tool for any webmaster who wants to improve their site's ranking in search engines.
So, with Labrika, you can be confident that you're getting the most comprehensive and accurate SEO advice.
Meet Labrika
TL;DR
Several features make it easy to get started with SEO, including keyword research, competitor analysis, and link building.
Alternative to: SEMrush, Ahrefs & Moz.
With Labrika, you can be sure that your site is optimized for the highest possible search engine rankings.
Best For Business Owners, SEO Managers, SEO Agencies, Marketplaces, and anyone looking to increase their SEO rankings using drastically
Key Features of Labrika
Mobile Search Tracking.
Link Management.
Keyword Tracking.
Google Analytics Integration.
Content Management.
Competitor Analysis.
Auditing.
Features included in All Plans
Interactive Content Optimizer
Keyword Rank Tracking
Keyword Research Tools
Localization Automation
Advanced Rank Checker
Intuitive UI and UX
24/7 Expert support