Noota
Transcribe, Record, and analyze your online meetings with the Noota analyzer.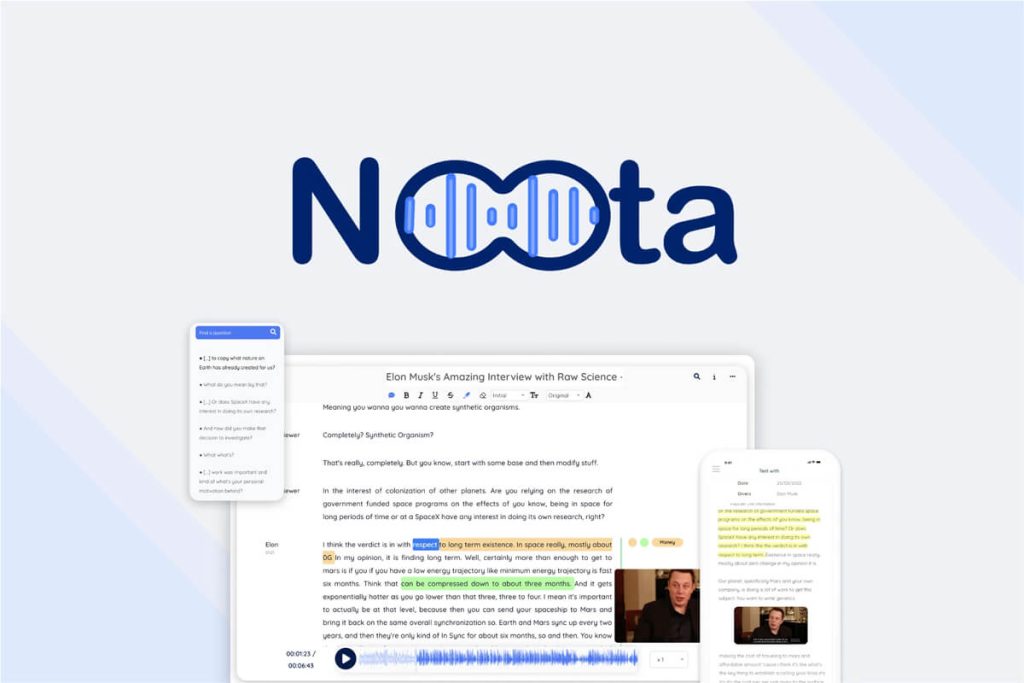 Noota is an AI-powered transcription tool with high accuracy and automatically generates reports. It is an ideal for transcribing audio and video files and live meetings and seminars.
This AI tool offers several features that make it a transcription tool for many professionals. For example, Noota can accurately transcribe audio and video files and generate reports automatically.
It provides several other features that make it the perfect transcription tool for many professionals. With this AI tool, you can transcribe audio and video files with high accuracy, generate reports automatically, and enjoy an intuitive interface.
It uses state-of-the-art speech recognition technology to convert speech to text, which is then used to create reports. it also integrates with various productivity tools, making it easy to use it in your workflow. As a result, this AI tool is a potent tool that can save you time and effort.
This AI tool is very affordable, making it an excellent option for businesses of all sizes. In addition, it offers a free trial, so you can try the tool before you commit to it. Overall, Noota also supports real-time transcription, which means you can transcribe live events as they happen.
Meet Noota
TL;DR
You can record any screen, tab, or videoconference and see the real-time transcription of all participants.
Alternative to: Otter.AI and Loom
Automatically generates the minutes of your exchanges, so you don't have to worry about taking notes.
Best for: Customer support, marketers, and sales teams with multiple meeting agendas looking for a way to stay on track.
Key Features of Noota
Real-time dictation
Import pre-recorded file
Subtitle videos
Screen Recorder
Noota editor
Custom Vocabulary
Chrome extension
Android app
Features included in All Plans
Four-hour max file duration
Manual tags and labels
Export to PDF, WORD, TXT, VTT, SRT, MP4, MP3
Audio Import: MP3, WAV, AAC, FLAC, OGG
Video Import: MP4, M4A, MOV, OGG
Speaker identification
Share video and transcript
No Noota branding