Plai
Quickly develop thorough campaigns and effortlessly launch targeted advertisements.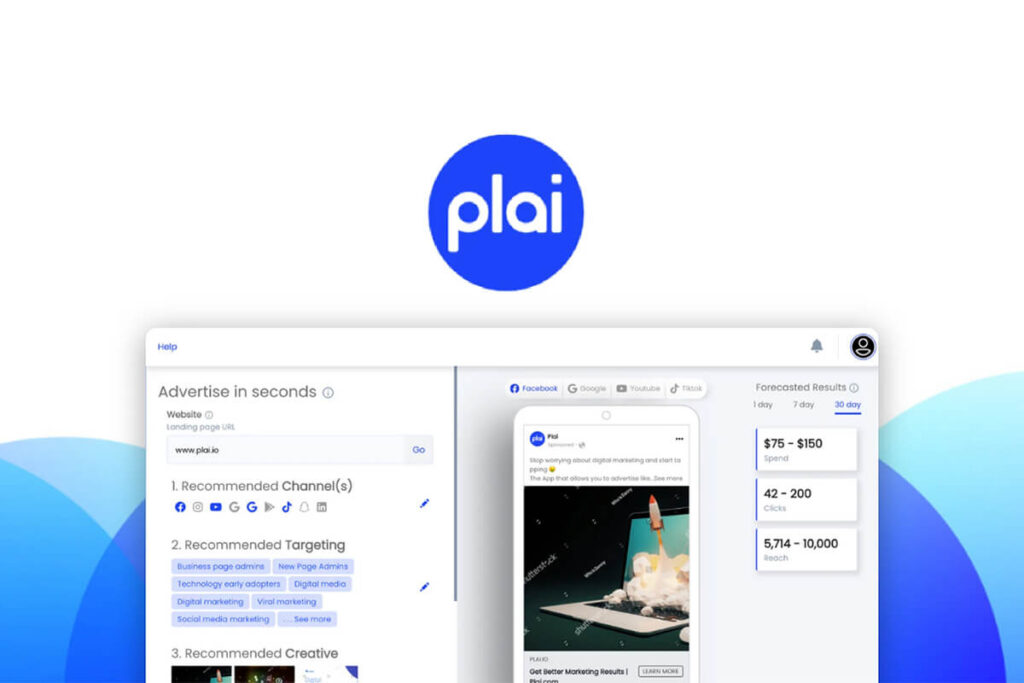 Plai is an easy-to-use advertising tool to launch targeted ad campaigns without prior knowledge. It offers a hassle-free way to initiate and execute comprehensive ad campaigns across various platforms.
One of the key features of Plai is its ability to handle all campaign-related tasks with just a few steps. Simply plugging in creative assets and applying campaign parameters, this tool can launch a campaign in seconds, regardless of the budget.
In addition, Plai offers flexible ad options, such as text options and multiple graphics for each campaign that helps to reach your target audience. It also includes A/B testing capabilities to improve the performance of your campaigns over time and ensure that your ads remain effective.
Plai also provides analytic insights that help businesses make better decisions about their digital marketing strategy. Using it, you can easily determine the best social channels for your marketing efforts, as well as how customers find you.
Moreover, this tool offers advertising templates to help businesses achieve strategic impact with their marketing campaigns. These customized templates best suit your needs, making it easy to meet your marketing milestones. As a result, you can easily increase your online presence, selling more products, and advertising new store locations.
In a word, this AI-based ad platform simplifies digital marketing and enables businesses to achieve marketing goals easily. So don't delay further to get this fantastic deal at $59. Also, you can take advantage of lifetime deals on Appsumo.
Meet Plai
TL;DR
With just a few seconds, effortlessly upload your creative assets to the app and launch targeted ads without the need to manage the campaign direction.
Alternatives to: AdEspresso, LeadPages.
Gain access to Google Ad Analytics and enjoy automated ad improvements for your campaigns.
Best for: eCommerce, Marketers, Marketing agencies.
Key Features of Plai
Campaign Structure
Audience building
A/B testing
Keep your ads consistent across platforms
Analytics supported for insights
AI Landing Page Builder
Find keywords
Features included in All Plans
Targeted ads across all platforms (Google Ads, Facebook Ads, Instagram, YouTube, TikTok, and LinkedIn)
AI copywriting (AI model: OpenAI)
AI landing page builder
Automated audience creation and recommendations
Automated optimizations across your campaigns
Automatic A/B testing
Connect unlimited accounts
Automated retargeting
Discover trends in your industry
Forecasting and planning tools
Find new keywords and get search volume
Analytics and insights for Google Analytics, YouTube Channel, Facebook Page, and Google Ads
Promote multiple videos and images across channels
Start advertising with just $1 per day
Mobile & web app