SaveMyLeads
Easily integrate lead data into over 120 platforms without the need for coding using pre-built API connections.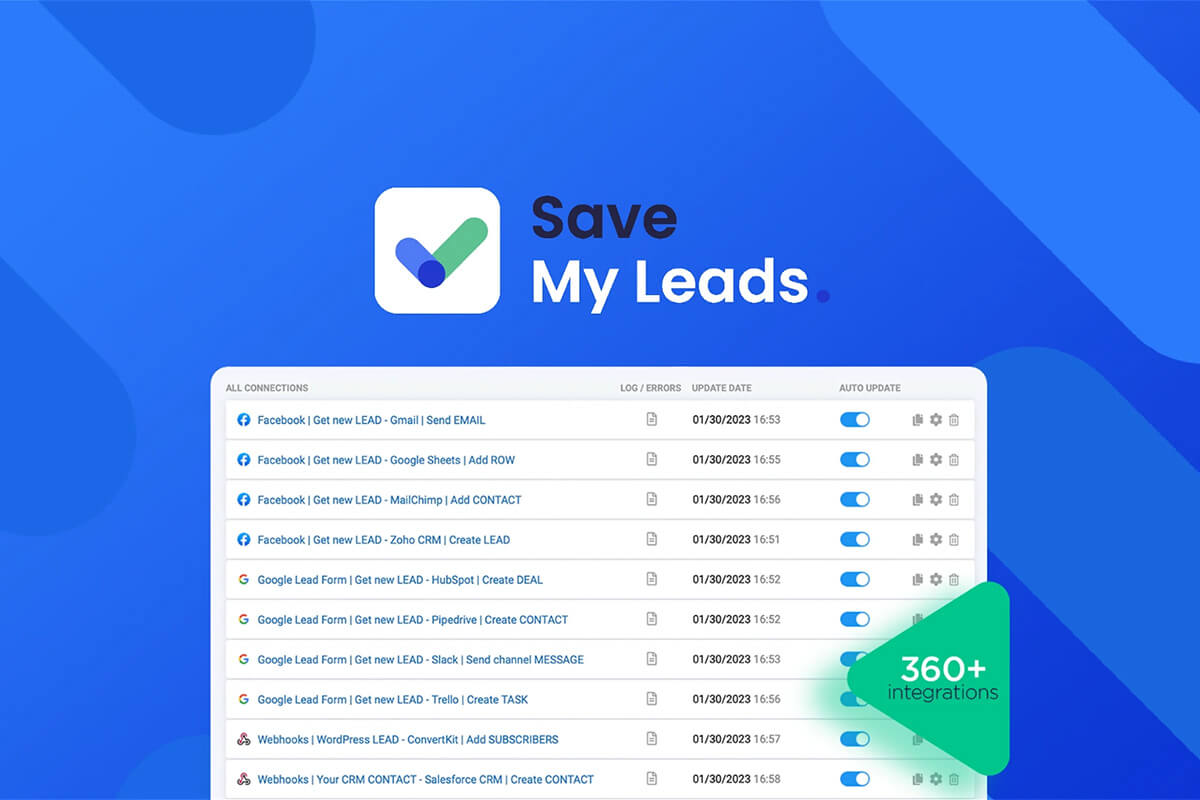 SaveMyLeads is a powerful lead generation tool that simplifies the process of capturing and transferring lead data to multiple platforms. It allows you to continuously connect all the tools in your tech stack, including Google Lead Form, Facebook Lead Ads, Mailchimp, and webhooks, among many others. This platform is ideal for freelancers, agencies, and marketers seeking to capture leads from multiple sources.
With SaveMyLeads, you can create business emails to send notifications, set up personalized emails and SMS messages to acknowledge customer inquiries. It also automates Facebook Lead Ad notifications, enabling you to respond instantly to potential customers.
Additionally, the platform's ready-made API integrations allow you to automate data transfers that make it easy to connect with more leads. It offers the ability to conduct tests and refine data transfers to improve outcomes, as well as notifications for various clients.
Moreover, this platform also has a dedicated support team to help you resolve any issues you may encounter while using the platform. Furthermore, the setup process is quick and straightforward. Select a destination, establish a connection to your data source, and specify the variables to be transferred.
Upon review, SaveMyLeads simplified your workflow, saves you time, and connects you to more leads. So, Whether you need to connect to CRMs, instant messengers, or task managers, this platform has got you covered. This tool is now available on AppSumo lifetme deals. Sign up today and take advantage of Appsumo's lifetime deal for only $49 to make significant progress in your work. Don't miss out on this opportunity.
Meet SaveMyLeads
TL;DR
Continuously transfer lead data to over 120 platforms and tools, such as CRMs, instant messengers, and task managers.
Alternatives to: Integrately, Make, Zapier.
Automate the process of sending personalized follow-up emails and SMS messages to potential customers.
Best for: eCommerce, Developers, Marketing agencies.
Key Features of SaveMyLeads
Instant new lead data without downloading сsv
Automatic Email & SMS responses
Marketers & Agencies – notify your customers of new leads
Integrate Facebook Lead Ads with Google Lead Form, Facebook Lead Ads, Mailchimp, and webhooks
Features included in All Plans
Facebook Lead Ads notifications to email, CRM, or SMS
Real-time lead sync
Unlimited ad accounts
Unlimited ad forms
Auto-failure resync
Google Lead Forms integration
Integrations: Gmail, HubSpot, Mailchimp, Salesforce, Sendinblue,Slack, Twilio, and more (plus all future integrations)