useArtemis
Powerful contact finding tool that allows you to quickly find anyone's contact details, phone numbers, and emails.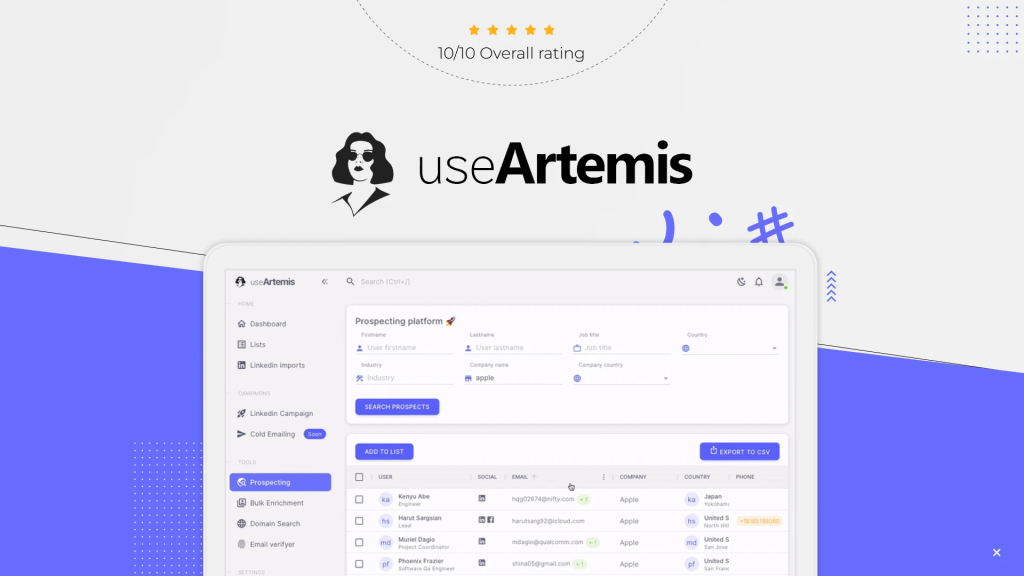 useArtemis is a phone number and email finding tool that helps users to find almost anyone's contact details in just a second. It originated from only official and legal sources.
With this tool, you can find contact details using company name, job title, name, and location filters. The data comes from their private 500M+ database. It verified the email, and they use third-party APIs if they don't find any results for your request.
useArtemis offers plenty of features such as access to the prospecting platform, domain search, email verifier, Bulk Enrichment, unlimited number of lists, exports, and LinkedIn outreach campaigns (coming soon), etc.
Appsumo is a great platform to sell your product online. The useArtemis offered an Appsumo deal with a discount price. The deal comes with awesome features of useArtemis. So, don't waste your time. Buy the product with this discount offer.
Meet useArtemis
TL;DR
Provide its data from official and legal sources, so users can be confident that they are getting accurate and up-to-date information.
It offers a range of filters that can be used to narrow down the search results, making it easy to find the needed information.
Best for: Marketers, Sales managers, and Small businesses.
Key Features of useArtemis
Access to the prospecting platform
Access domain search
Access email verifier
Access to Bulk Enrichment
Unlimited number of lists
Unlimited number of exports
Premium support
Features included in All Plans
Access to 500M+ database of B2B contact details
Access our LinkedIn Chrome Extension
Search by job title, company name or URL, location, industry, or team size
Storage of contact information in useArtemis lists
Export of found data to a CSV file
7,000 credits will add to your account every month
LinkedIn outreach campaigns (coming soon)
Cold emailing tool (coming soon)
Each Code Adds: An additional 7,000 credits
Stack up to 5 codes max