WriterZen
Increase SEO ranks with tools arranged into a process that prioritizes outcomes.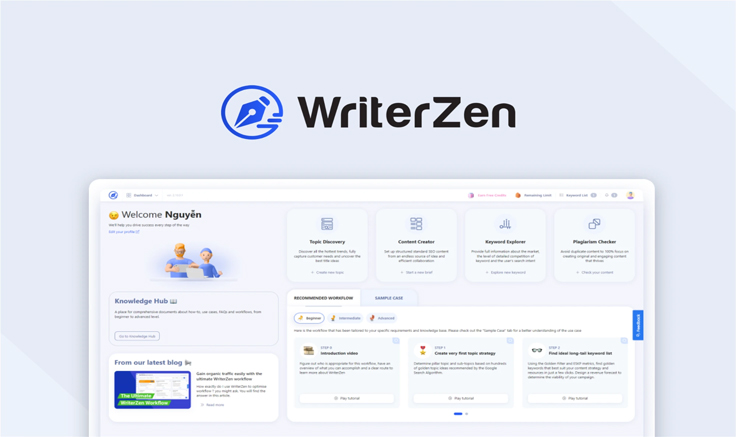 WriterZen is a tool that helps you understand your users' search intentions With the topic discovery and keyword explorer tools, you can do your research and then use the content creator tool to generate your content.
Select from recommended NLP entities to make your material understandable to bots, then build a masterpiece using WriterZen's advanced text editor. And provides you with these tools you need to get them done. It is an AI-powered platform that uses Natural Language Processing (NLP) to simplify complex SEO data into actionable tasks.
WriterZen gives you the ability to rank high on search engines, adapt to the dynamic nature of SEO, and get the most out of your content. It is the perfect tool for busy entrepreneurs and small business owners who want to get the most out of their content. Thanks to WriterZen, you can finally say goodbye to those bad clown dreams and get the ranking you deserve!
With just a few clicks, this powerful tool will compress and convert your images without compromising quality. As a result, your pages will load faster, your customers will be happier, and your SEO rankings will improve.
While running your material through the built-in plagiarism detector tool, you may apply the finishing touches. The program will detect any duplicate or improperly paraphrased text. This way, you can be sure your material is unique and avoid Google penalties
Meet WriterZen
TL;DR
Determine the best topics for engaging content depending on the demands of your audience.
Alternative to: SEMrush, Ubersuggest, and Ahrefs
Choose keywords depending on their applicability, reliability, popularity, and competitiveness.
Download reports fast and distributes them to your team for easy collaboration.
Key Features of WriterZen
Rank high on search engines
Topic discovery tool
Developing topic clusters
Cutting-edge metrics
Text editor.
GPT-3 powered AI assistant
Built-in plagiarism checker tool.
Features included in All Plans
SERP overview
Insight segmentation
Export function
Golden Keyword Filtering
Sales per keyword simulation (ESKP)
Shareable links for freelancers
Import content from URL