Email automation has become an essential tool for businesses looking to streamline communication with their customers. With so many options available, it can be hard to decide which platform to use. Two popular contenders in this space are Omnisend and TinyEmail. Both offer a range of features to help you manage your email campaigns effectively.
However, choosing the right option can make the difference between a successful campaign and a failed one. In this article, we will take a closer look at Omnisend vs TinyEmail to help you determine which platform is best suited to your particular business needs. Whether you're new to email automation or an experienced user, it's important to choose a tool that will help you reach your targets and achieve your goals.
Overview of Omnisend and TinyEmail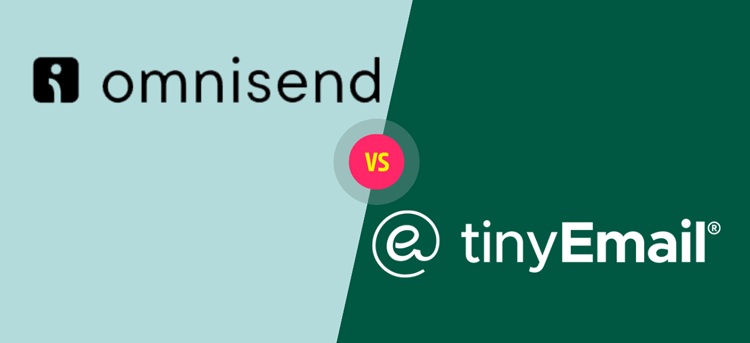 What is Omnisend
Omnisend is a comprehensive email marketing and SMS tool that automates your marketing efforts throughout the entire customer journey.
Also, it can engage your audiences across multiple channels through the same automation workflow. You can effortlessly reach out to customers via email, SMS, and push notifications.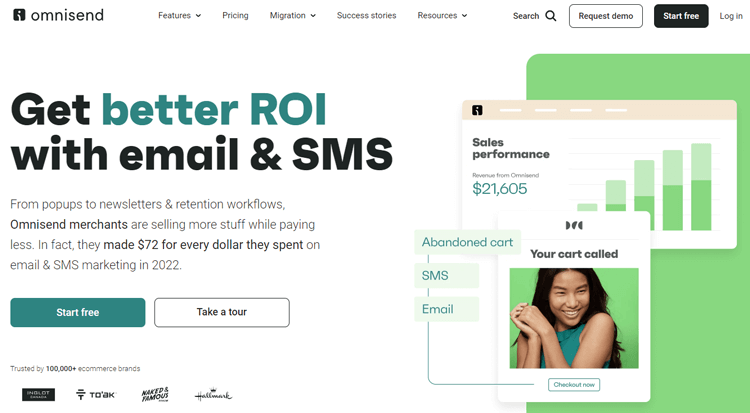 Additionally, Omnisend enables you to synchronize your segments with Google and Facebook, allowing you to create retargeting ads that provide an immersive customer experience.
Using this tool, you can build and expand your subscriber lists using captivating landing pages, popups, and interactive forms. With ready-made email templates and newsletters you can also effectively connect with your customers. This platform seamlessly integrates with popular ecommerce platforms like Shopify, BigCommerce, WooCommerce, Wix, and many others with just a single click.
Features:
Email marketing
SMS
Web push notifications
Popups & Forms
Reports
Segmentation
Audience sync for ads
What is TinyEmail
TinyEmail is an email marketing software that utilizes AI technology to assist businesses in launching interactive email campaigns. It empowers businesses to craft personalized and captivating email marketing campaigns that attract more leads and boost their return on investment (ROI).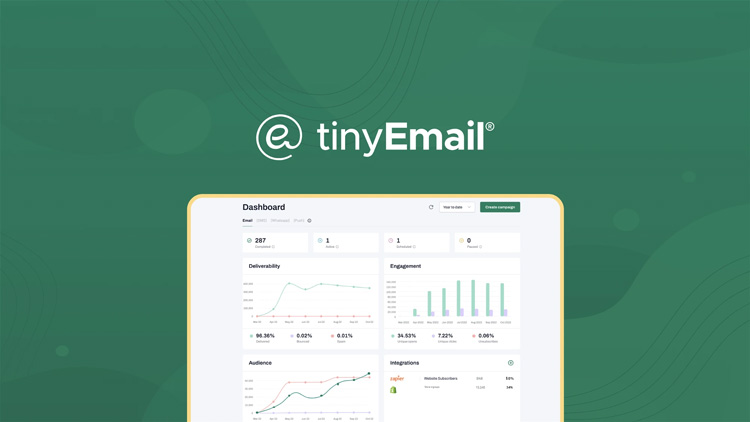 Through the utilization of AI-powered algorithms, the software simplifies the process of segmenting customers based on their behavior and interests. Moreover, tinyEmail streamlines the task of sending personalized email marketing messages.
Equipped with an AI-powered subject line generator, businesses can swiftly create distinct and attention-grabbing headlines for their marketing emails. The software allows businesses to design visually appealing and customized emails for each audience segment, thus facilitating more impactful email campaigns.
Features:
AI & Machine Learning
Integration, Data & Analytics
Forms and Pop-Ups
Automation for Shopify
AI Subject Line Generator
Segmentation and Personalization
Email Marketing
Unlimited Senders and Subscribers

Features Comparison of Omnisend vs TinyEmail
User Interface
Omnisend:
Omnisend offers a clean and modern user interface that is visually appealing and easy to navigate. The dashboard is designed with user-friendliness in mind, providing intuitive access to key features and functionalities. The drag-and-drop editor in Omnisend allows for effortless customization of emails, making it convenient for users without coding knowledge.
TinyEmail:
TinyEmail focuses on simplicity and straightforwardness in its user interface. The dashboard is designed to be clean and minimalistic, allowing users to quickly access essential features. The email editor in TinyEmail is more basic compared to Omnisend, but it still provides a user-friendly interface for creating and sending campaigns.
Integrations
Omnisend:
Omnisend offers a wide range of integrations with popular e-commerce platforms such as Shopify, WooCommerce, Magento, and BigCommerce. It also integrates with CRM systems like Salesforce and HubSpot, as well as social media platforms like Facebook and Instagram. Additionally, Omnisend provides integration with Google Analytics, allowing businesses to track the performance of their email campaigns effectively.
TinyEmail:
TinyEmail offers a limited selection of integrations. While it does support popular e-commerce platforms like Shopify and WooCommerce, it may not have the same extensive range of integrations as Omnisend. TinyEmail may not provide integrations with CRM systems or social media platforms, limiting the cross-channel capabilities of your email marketing campaigns.
Automation Tools
Omnisend:
Omnisend stands as a comprehensive email marketing platform that provides businesses with a wide array of features to automate their email campaigns. Its intuitive drag-and-drop editor simplifies email creation and customization. Additionally, Omnisend offers robust automation tools, allowing businesses to establish automated campaigns effortlessly.
TinyEmail:
Tinyemail serves as a more straightforward email automation platform, focusing on ease of use and quick setup. It offers a range of features, including email templates, automated campaigns, and analytics. Additionally, it does not offer any interfaces with external platforms. Thus, businesses using it for automation must manually synchronize their data.
Customer Support
Omnisend:
On its website, Omnisend offers a knowledge base and other resources in addition to email, chat, and phone support. Response times vary based on the complexity of the issue, generally within 24 hours.
TinyEmail:
TinyEmail offers support through email and chat, along with a knowledge base on their website. Response times are typically within 24 hours, but there may be delays during peak periods.
Pricing Plan
Omnisend:
Omnisend provides customers with three pricing options: Free, Standard and Pro.
Free: $0 ( offers 500 emails per month and up to 60 SMS)
Standard plan: $16 / month (included essential email marketing features like email campaigns and automation workflows)
Pro plan: $59 / month (offering additional features such as SMS messaging and integration with Facebook Messenger) 
Note that their pricing plan varies based on the number of people you want to send emails to.
TinyEmail:
Monthly Plan:
Free: $0 (Only available for Up to 15k email)
Standard: Starting at $15/month
Pro: Starting at $65/month
Enterprise: Starting at Custom/month
Yearly Plan:
Free: $0(Only available for Up to 15k email)
Standard: Starting at$ 144/year
Pro: Starting at $624/year
Enterprise: Custom
Recommended Blog for You
👉 AppSumo Originals: A Comprehensive Review
👉 SocialNowa vs ManyChat: Is ManyChat the Best Alternative to SocialNowa?
👉 Mailchimp vs TinyEmail: Which Email Marketing Platform is Right for You?
👉 Steve AI vs Pictory: Which Video Creation Tool is Right for You?
👉 Klaviyo vs TinyEmail: Choose the Best email marketing tool
Pros and Cons of Omnisend vs TinyEmail
Pros and Cons of Omnisend
Pros of Omnisend:
Enhanced segmentation choices: With Omnisend, businesses can establish highly targeted segments using diverse criteria such as purchase history and engagement levels.
Streamlined automation: Omnisend's automation workflows enable businesses to save time and enhance the efficiency of their email campaigns.
Customization alternatives: This tool provides an array of personalization options, including product recommendations and dynamic content. This empowers businesses to create more captivating email campaigns.
Seamless integration with other platforms: This platform is a great option for companies with online stores because it easily interacts with a variety of e-commerce systems.
A/B testing capabilities: Omnisend enables businesses to conduct A/B testing on different versions of their email campaigns enhancing their overall effectiveness.
Cons of Omnisend:
Premium pricing: Compared to other email marketing platforms, Omnisend has a higher cost, particularly for businesses with extensive subscriber lists.
Steep learning curve: The advanced features of Omnisend can present a learning challenge, especially for businesses lacking a dedicated marketing team.
Limited customer support options: Although Omnisend provides various support channels, some users have reported longer response times or challenges in resolving their issues.
Pros and Cons of Omnisend vs TinyEmail
Pros of TinyEmail:
Cost-effective pricing: TinyEmail is one of the most budget-friendly email marketing tools. That's why it is an excellent choice for businesses with financial constraints.
User-friendly interface: With its intuitive user interface, it simplifies navigation and proves advantageous for businesses lacking dedicated marketing teams.
Customizable templates: TinyEmail presents a diverse collection of customizable email templates. It enables businesses to create sophisticated and professional campaigns.
Reliable customer support: This tool offers multiple support channels, including live chat and email, and users have praised the prompt response times and helpful assistance from their support staff.
Simple platform: TinyEmail focuses on essential features for email marketing, catering to businesses that value simplicity and functionality without unnecessary embellishments.
Cons of TinyEmail:
Feature limitations: TinyEmail provides a more straightforward range of features in comparison to other email marketing platforms.
Limited integrations: It offers fewer integrations with other platforms, which could pose challenges for businesses relying on complex technology ecosystems.
Restricted automation options: While TinyEmail includes certain automation capabilities, it falls short in providing the same level of advanced automation options as other platforms.
Basic reporting capabilities: Its reporting tools are less sophisticated than those of other platforms, which can make it more difficult for firms to get in-depth campaign analysis.

Frequently Asked Questions
Q-1. How do you Choose the Right Tool for Your Business?
A. Selecting the optimal email automation tool depends on the specific requirements of the business. For comprehensive features and integrations, Omnisend is an excellent choice. On the other hand, if simplicity and ease of use are prioritized, Tinyemail may be the preferable option for businesses seeking a more basic platform.
Q-2. What should you consider When Comparing Automation Tools?
When comparing automation tools, it is essential to have a comprehensive understanding of your project and its specific requirements. There are five key factors to consider during the selection process:
Features and Functionality
Product Positioning and Market Share
Available Integrations
Pricing and Contracts
Third-Party Reviews
Q-3. Can you use both tools to make your decision?
Certainly! You can use both free email marketing platforms that allow you to evaluate and test their platforms before making a decision. This gives you the opportunity to explore the features, functionality, and overall suitability of each platform to ensure it aligns with your business needs and objectives.
Q-4. What email Automation tool is best for small businesses?
Both tools can serve small businesses, but which is best will depend on your budget and particular needs. Omnisend may be a better choice if you want sophisticated automation tools and easy integrations. TinyEmail, on the other hand, can be a better fit for your needs if you are on a tight budget and desire a user-friendly interface.
Final Thoughts on Omnisend vs TinyEmail
You may improve engagement with your audience, strengthen customer connections, and boost sales by picking the correct email marketing platform. This blog post compares Omnisend vs TinyEmail and evaluates their differences. The optimal platform for you will ultimately depend on your unique business demands and ambitions.This article will give you insightful views and the information required to make the right choice.