Are you looking for a Rytr AI Writing Tool Review? Then, you've come to the right place. We will take a close look at all the features that Rytr has to offer. We will also discuss its pros and cons so that you can decide if it is the right tool for you.
Rytr is a powerful AI writer tool that can help you to generate various types of content, including blog posts, landing pages, business pitches, emails, and more. In addition, it offers a variety of features to make the entire writing process more manageable, regardless of the style of writing you're looking for. So let's take a closer look at what this tool offers.
What is Rytr AI Writing tool?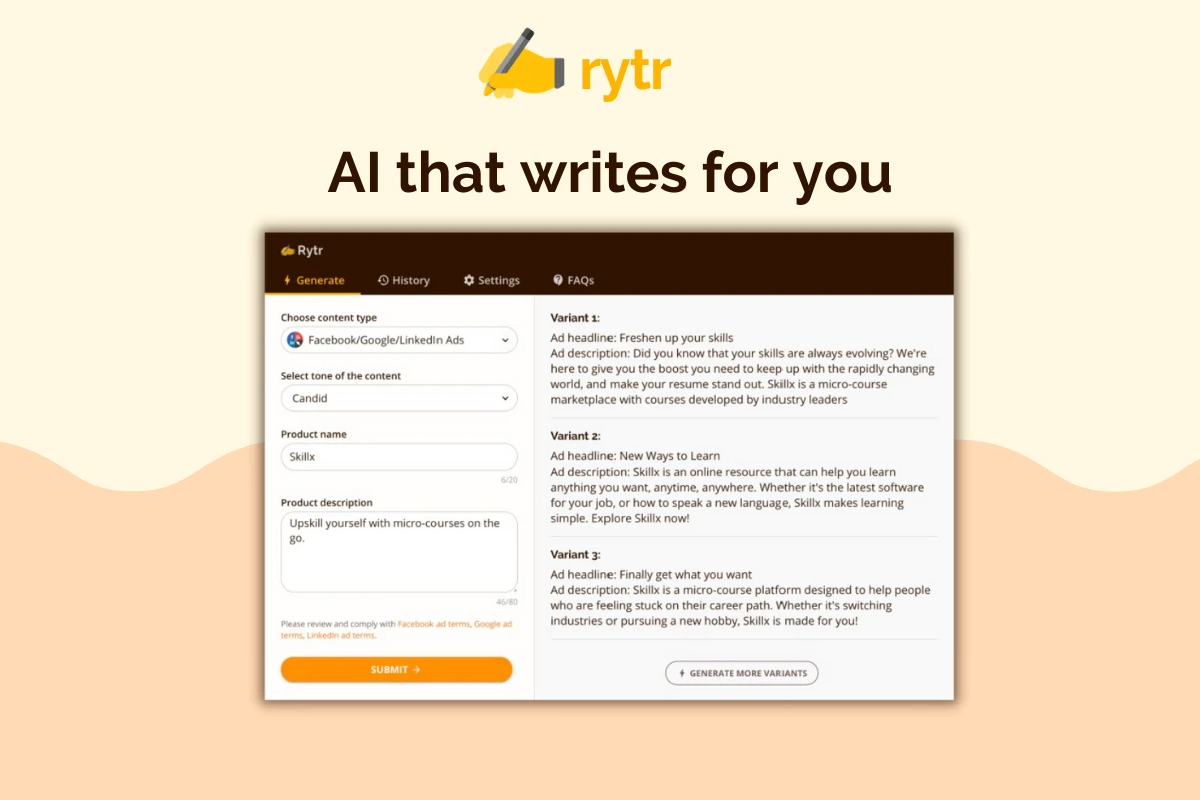 Rytr AI Writing Tool is a cutting-edge AI writing assistant that can help people write faster and create high-quality content in just a few seconds. It uses natural language processing and machine learning to understand the text and suggest edits that can improve clarity, grammar, and style. 
Rytr also offers a range of templates that can help to start writing or provide inspiration for the next project. Overall, Rytr is a valuable tool for anyone who needs to write frequently and wants to improve their writing speed and efficiency.
What are the benefits of using Rytr AI Writing Tool?
There are many benefits of using Rytr AI Writing Tool, especially for content creators. Not only does it generate new content with each try, but it also passes plagiarism checks on websites like Grammarly. This means you can be confident that your content is original and high-quality.
In addition, Rytr has many options, including email templates, Facebook and LinkedIn ads, interview questions, and post and caption ideas. This creates it easy for you and your team to work together to create high-quality content. Overall, Rytr AI Writing Tool is an excellent tool for content creation and should be used by all content creators.
How does Rytr AI Writing Tool work 
Rytr is an AI-powered content generation platform that uses the GPT-3 language model to generate human-like content. To create content with Rytr, select your use case, add some input for context, and this AI tool will automatically generate the content. It is easy to use and requires no training or knowledge of artificial intelligence. Select your desired output, provide some context, and Rytr will do the rest.
How to start working with Rytr? 
Starting to work with Rytr AI Writing Tool is easy, and anyone can start working with this AI tool within seconds by following the steps mentioned below:
Choose a language from the drop-down menu
Set a suitable tone for your content
Choose the type of content you wish to create
Specify a keyword or keyphrase of up to 50 characters
Enter the number of variants (maximum 3) you want to generate
Click on 'Ryte for Me'
Then it will generate the results within a matter of seconds.
Feature list of Rytr AI Writing Tool
Blog Idea and Outline
Blog Idea and Outline is an excellent tool for generating ideas for your blog. It would be best if you did add your target keyword, generating ideas for you. This feature is for technical and non-technical topics. For example, the technical issue caused a lot of ideas that are used for blogs. For the non-technical issue, it generated a few ideas, but they were all related to the technical topic. Overall, this is an excellent tool for anyone who wants to create ideas for their blog.
Blog Section Writing
Blog sections are an essential part of any blog post. They help to break up the text and provide a clear structure for the reader to follow. When writing a blog section, it is essential to choose a topic relevant to the overall theme of the blog post.
Rytr AI Writing Tool can help with this by generating content around the selected topic. Each section can specify a different tone, changing the generated content. This is a great way to add variety to blog posts and keep the reader engaged.
Copywriting Framework
The Copywriting Framework feature in AIDA is an excellent example of this. It allows you to enter a short description of your product or brand and select a tone. This can help ensure that your copy is on point and hits the right notes with your audience. Overall, the Copywriting Framework feature is quite good and makes the copywriting process much more straightforward. But you must experiment with different tones to bring the best results.
Video Description
Video descriptions are a great way to engage your audience and give them more information about your video content. To produce a video description, enter the title of your video into a search engine. This Rytr AI Writing Tool will generate two variants of the same topic, which you can customize to your specific video content. Video descriptions are an excellent way to promote your brand and increase viewership.
Tagline and Headline
Taglines and headlines are essential for any product or brand. Enter a short description of your product or brand, and Rytr will generate a list of potential slogans and headlines. The results are decent, but you may need to experiment with different tones to get the best results. Again, entering precise information and using the proper technique are the keys to success.
Landing Page and Website Copy
Landing pages and website copies are important for any business. They help you to explain what your website is about and what you can offer to potential customers. Creating these can be time-consuming, but with Rytr it only takes a few seconds.
First, it would help to enter your website's name, details, and significant features. Once you're done, Rytr AI Writing Tool will generate content for your landing page that is both informative and engaging. Plus, with 822 credits, you'll have more than enough to create a professional-looking landing page that will make a great impression on potential customers.
Magic Command
Magic Command is a fantastic tool that offers unparalleled flexibility to Rytr users. With Magic Command, you can generate any content you need by entering your requests in the input field. Magic Command will then send your submissions as commands to the AI and create the content you asked for.
This means that you can use Magic Command to generate poems, anniversary letters, answers, and much more. In short, Magic Command is an incredibly powerful tool that gives Rytr AI Writing Tool users the ability to create virtually any kind of content they need. 
Long Form Content
Long-form content is a great way to engage your audience and build credibility for your brand. In Rytr AI Writing Tool, you can easily create long-form content by creating a Blog outline. The Blog outline tool allows you to specify your article's topic, length, and format, making it easy to plan and produce high-quality content. In addition, the outline tool can also be used to track your progress as you write, ensuring that your article stays on track and meets your deadlines.
Text Editing Tools
Text editing tools are essential for any writer working on a novel or a blog post. Rytr AI Writing Tool offers a variety of text editing features that can help to improve the clarity and quality of your writing. The first tool is the ability to create a blog outline from a given topic. Another helpful tool is the ability to highlight text. The last tool that will be demonstrated is the spell checker. This is an essential tool that can help to prevent mistakes in writing.
Paragraph Tool
The Paragraph tool is a great way to expand your sentences into paragraphs of content. The paragraph might not be accurate as per your overall article, though. This tool is essential because it only generates content from the selected text.
Paragraphs are essential because they help to break up your content and make it more readable. By using the Paragraph tool, you can ensure that your paragraphs are well-formed and accurate. This will help improve your articles' readability and make them more enjoyable to read. 
Rephrase Tool
Rephrasing your content can be a valuable tool for a number of reasons. For one, it can help to ensure that your writing is clear and concise. Rephrasing can also help make your writing more engaging, allowing you to play with different word choices and phrasings.
Additionally, Rephrasing can be a great way to improve the overall clarity of your writing. Finally, Rephrasing can also help to give the impression of a more polished writer. Rephrasing can make your writing seem smoother and more sophisticated when done well. 
Improve Tool
Improve tool is a great way to improve your grammar and readability of text. This online tool can help you with many different types of errors, such as typographical, spelling, and even grammar mistakes. This tools can also help you improve your writing style by ensuring that your sentences are clear and concise.
In addition, the Improve tool can provide feedback on your text's overall readability. By using the Improve Tool, you can be sure that your writing is error-free and easy to read.
SEO Meta Description
SEO Meta Description is a great tool for quickly generating SEO-optimized meta descriptions for your website, pages, and blogs. All you want to do is enter your website's meta title or page into the SEO Meta Description Generator, automatically generating a well-optimized meta description. The SEO Meta Description Generator is a great tool for quickly improving your website's SEO, and it is completely free to use.
Interview Questions
Interview questions can be generated with Rytr AI Writing Tool in seconds. First, you must enter the interviewee's bio and the interview context. With this valuable tool, you can focus on what the candidate has to say rather than struggle to come up with questions on the spot.
In addition, you can be sure that you are asking relevant and insightful questions that will support you get to know the candidate better. With this AI writing tool, there is no need to spend hours preparing for an interview – enter the information and let Rytr do the work for you.
Facebook, Google, and Linkedin Ads
Facebook, Google, and LinkedIn Ads are great ways to reach new potential customers. And with Rytr, creating these ads is easier than ever. Just enter your product description, and the ad is completed independently. And once you've made your ad, be sure to experiment with different inputs and tones to get the most out of your Rytr campaigns.
Testimonial and Review
Testimonials and reviews play an increasingly important role in online marketing. They provide potential customers with valuable insights into a company's products or services and can help build trust and credibility. Rytr is a new tool that makes it easy to generate comprehensive reviews and testimonials for websites. With this AI tool, you can quickly and easily create high-quality testimonials and reviews to help your website stand out from the competition.
Business Idea Pitch
Business Idea Pitch is a tool that allows you to create attractive and to-the-point startup pitches for your business. First, you need to do is supply your business idea, and the pitch will be ready soon. The Business Idea Pitch tool is easy to use and can be an excellent asset for any entrepreneur. With this tool, you can make sure that your business idea stands out from the rest and that your pitch is concise and to the point.
Story Plot
If you're struggling to come up with an exciting plot for your story, Rytr can help. It took 574 characters and will generate a variant for you. All you need to do is a few parameters, and it will create an exciting plot for your story. 
Post and Caption Ideas
Post and Caption Ideas is an online tool that helps you generate content for your social media posts and captions. It is designed to help you create creative, engaging, and relevant content for your audience. The tool is simple to use: enter a keyword or topic, and the tool will generate a list of ideas for you to choose from.
Post and Caption Ideas is a great way to get started with tree plantation content or to supplement your existing content strategy. With Post and Caption Ideas, you can be sure that your social media posts and captions are always fresh, relevant, and engaging.
Rytr Pricing
Rytr Offers 2 pricing Plan:
Premium: $29/month 
Saver: $9.00 Per Month
Frequently Asked Questions
Is there any free version available for Rytr?
Yes, the Free version is available for Rytr. You can generate about 10,000 characters per month, providing ample room for creativity and content creation. If you need more, Rytr offers unlimited usage starting at just $9 per month.
Can I use Rytr AI Writing Tool for multiple languages?
Currently, Rytr AI Writing Tool primarily supports English content generation. However, the platform is continuously evolving, and there may be plans to support additional languages in the future.
Can I integrate Rytr AI Writing Tool with other platforms and tools?
Yes, Rytr AI Writing Tool offers integrations with various platforms and tools, making it easy to incorporate AI-generated content into your existing workflow seamlessly.
Final Word of Rytr AI Writing Tool Review
In this Rytr AI writing tool review, we discussed the ins and outs of this tool. It has a lot of potential to become a key player in AI writing. With its GPT 3 model in place, this tool can be the future of AI copywriting in the content industry. While it remains to be seen that this AI tool will be able to scale its business, the company has a solid foundation to build. If Rytr can continue to develop its technology and expand its customer base, it could soon become a powerful force worldwide in AI-powered content creation.