Effective content sharing is integral to any successful marketing strategy in today's highly competitive digital landscape. Sniply has been one of the go-to tools for this purpose due to its link shortening and call-to-action features. However, a number of Sniply alternatives have emerged on the market, providing additional and unique features that cater to a diverse range of user preferences.
These Sniply alternatives empower professionals to drive enhanced engagement by leveraging smart content insights, custom branding, and advanced analytics. As a result, businesses can make better-informed decisions to optimize their content marketing campaigns while offering a more personalized experience to their visitors.
Overview of Sniply
Sniply is a link shortener tool that empowers you to add compelling calls to action (CTAs) to any webpage, even those from external websites. Every CTA is fully customizable, providing you with the ability to modify the images, text, buttons, and form fields for your banner to stand out. Also, you can create a user-friendly summary of the linked material using the Sniply Synopsis, which removes visual distractions like banners and adverts.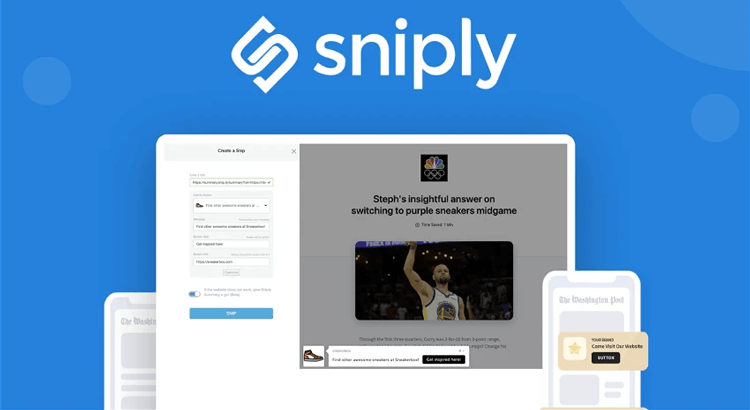 The link analytics feature enables you to track and analyze user behavior such as clicks, conversions, average time on site, and bounce rates. You can also conduct A/B testing on your CTAs to determine the most effective combination of color and copy that drives the most clicks and conversions.
With Sniply, you can transform all your outgoing links into Sniply links using just a single line of code. The best part is that you can add CTAs to your own content without needing a separate tool, allowing you to optimize your sales funnel with ease.
Key Benefits of Using Sniply
We will explore how Sniply's tools can benefit your business. Specifically, we'll list the five tools that can enhance your marketing efforts.
Custom URL Shortener
Sniply is an effective custom link shortener for professional content sharers. Using it, you can track, test, and engage with your followers by shortening links and sharing content. You can track the link analytics of each custom URL, including link clicks, conversion rates, and more. Based on that information, you can A/B test custom links and optimize your campaigns for maximum performance.
Call-to-Action URL Shortener
With Sniply, you can create user-friendly URLs that encourage people to revisit your website. With its versatile range of options, you can add a unique call-to-action to each shortened URL you publish. Also, you can effortlessly embed these call-to-actions onto the articles and pages you share, giving you more ways to customize your content.
Link Management
Sniply's URL management tools provide you with valuable insights to enhance your link marketing campaigns. The link management dashboard tracks how your readers interact with all the custom-shortened URLs you share, giving you a comprehensive idea of your campaign's performance. With Sniply's tools, you can effortlessly track critical link analytics metrics, such as conversion rates, link clicks, and more.
Link Analytics
Simply creating short URLs isn't enough. To maximize the effectiveness of your social media marketing campaigns, it's essential to track their performance. With Sniply Analytics, you can monitor numerous critical link metrics as well as interactions with your customized call-to-action. This data empowers you to make decisions based on what genuinely captivates your audience, leading to better engagement and higher conversion rates.
Conversion Optimization
You can convert a user by including a CTA popup with your link, especially if they choose to join in with their email. Once they click your CTA, they become a conversion. To ensure that you achieve your desired outcome, Sniply's verified conversions track the entire process up to a purchase. This allows you to make accurate conversion optimization decisions based on real data, resulting in improved performance and better outcomes.
Sniply Pricing:
Sniply free account available for 14 days only. It offers four different plans that start at $25.0 per month.
Sniply Basic at $25.00 per month.
Sniply pro plan at $66.00 per month.
Business at $125.00 per month.
Agency at $250.00 per month.
Top 5 List of Sniply Alternatives
Bitly
Bitly is a popular URL-shortening service that provides users with the ability to shorten website links. In addition to this, it can create "link-in-bios" for Instagram users, allowing them to add clickable links to their profiles. It also provides powerful web analytical tools, trend-tracking capabilities, and brand management options to users.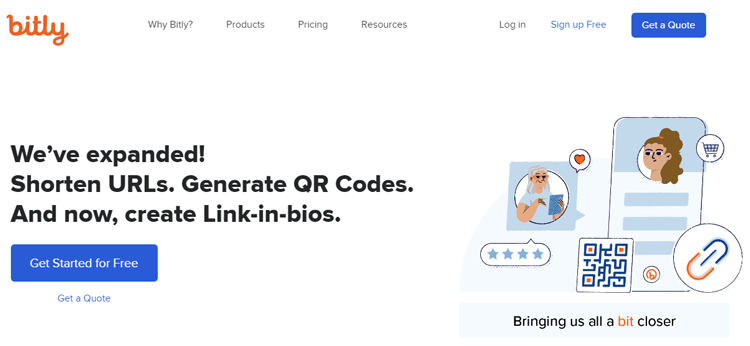 In today's world of increasing connectivity, the need for effective information sharing has never been more critical. Bitly has responded to this by attracting more than 300 million users and processing billions of clicks each month. While there are some security risks associated with using any URL-shortening service, Bitly remains a valuable tool for individuals and companies alike.
Key features:
Shorten and brand the links you share
Gather audience intelligence
Track individual link analytics
Collect insights on your performance
Measure campaign performance in one location
Give context to the click
Optimize your marketing efforts
Price:
Annual plan-
Free: $0 (50 bit.ly links/month)
Starter: $8 (200 bit.ly links/month)
Basic: $29 (1,500 branded links/month)
Premium: $199 (3,000 branded links/month)
Enterprise: Custom (10,000+ branded links/mo.)
Monthly Plan-
Free: $0 (50 bit.ly links/month)
Basic: $35 (1,500 branded links/month)
Premium: $300 (3,000 branded links/month)
Enterprise: Custom (10,000+ branded links/mo.)
👉 Check Support Genix Review- Features, Price, Pros, and cons
Rebrandly
Rebrandly is a link management platform that enables you to brand, track and share short URLs using a custom domain name. It takes a more advanced approach to conventional link shortening that allows you to create branded links that differentiate you from the competition.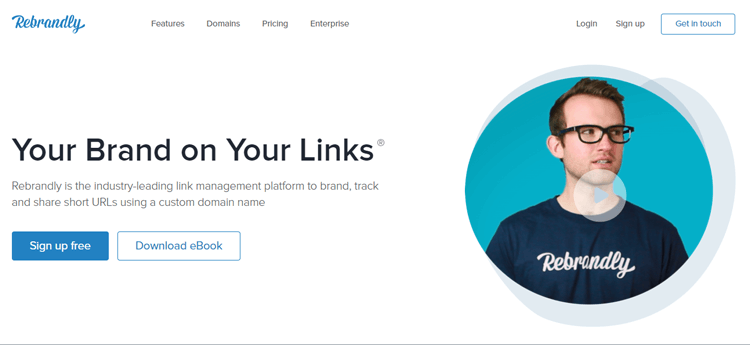 Moreover, Rebrandly offers useful features, including speedy redirects, the ability to edit destination URLs, customizable URL slugs, link searches, QR codes, and link tags.
This platform provides you with comprehensive click-tracking capabilities, allowing you to identify which of your communications generate the most traffic.
It also offers individual link data, aggregated reports, and customized analytics to give you a detailed understanding of your link performance. Additionally, Rebrandly has an in-house UTM builder to attribute link metrics to your Google Analytics account.
Key features:
Link Shortening
Branded Links
Link Analytics
Retargeting
Advanced Redirect
Price:
Annual plan-
Free: $0
Starter: $24/month
Pro: $75/month
Premium: $419/month
Enterprise: Custom
Monthly Plan-
Free: $0
Starter: $29/month
Pro: $89/month
Premium: $499/month
Enterprise: Custom
👉 Grab CRM Lifetime deals – The Best 5 Deals With Exclusive Offers
SleekBio
SleekBio is a social link solution that boosts traffic and clicks to your top content and products. Setting up your social bio link with it takes only a few minutes. Simply begin by configuring your name, URL, and logo. It allows you to create a single, organized web page to display numerous services. With this tool, you can effortlessly add or remove links to maintain complete control over your online presence.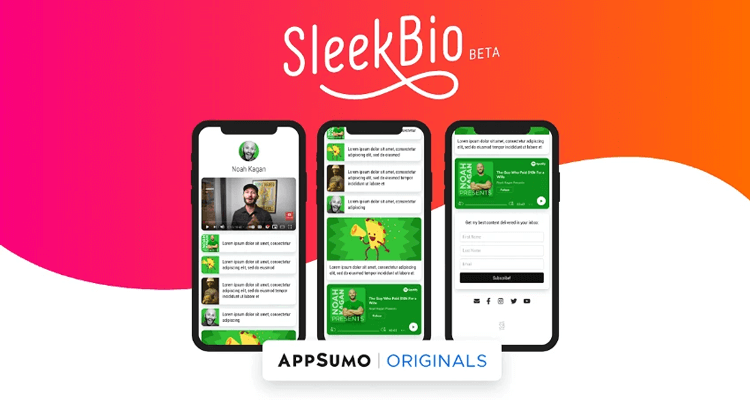 By utilizing analytics and data tracking, you can gain valuable insights into your page's overall performance and individual content. With this knowledge, you can improve your links and content, making them more effective. You can also add various block types to your page, including links, embedded content, and social media buttons. With SleekBio, building an impressive cross-promotion stream is effortless.
Key features:
Comprehensive analytics for tracking data and results of your page and links
Display up to 50 items per page to highlight your top content
Reduced branding
Meta/Facebook Pixel
Pricing:
Tier 1 license: Available for a one-time purchase of $1
Tier 2 license: Available for a one-time purchase of $2
Tier 3 license: Available for a one-time purchase of $3
👉 View ClickUp InDepth Review: Why This Tool Is The All-in-One Project Management Solution?
Switchy
Switchy is more than just a standard link shortener-it is a complete and global link engagement platform. You can customize the appearance of your shared posts on social media platforms by editing the title, domain, description, and image to make your links stand out.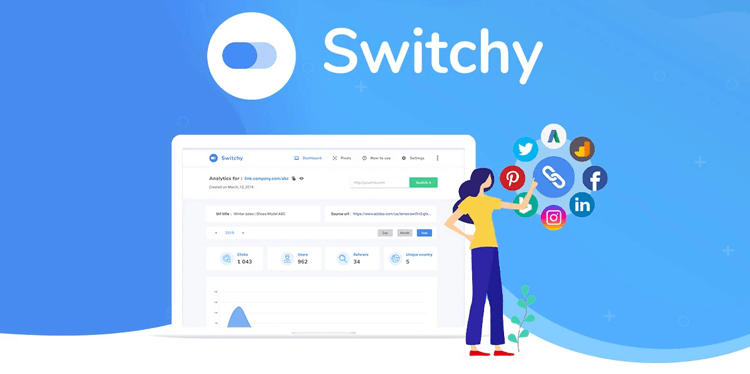 It provides an advanced tracking system that monitors clicks, impressions, and conversions, allowing you to gain insights into your link's performance. Additionally, detailed reports of your link's performance are readily available on the platform.
Using Switchy, links become a powerful marketing channel rather than just a simple redirect. You can track user engagement with your post and easily integrate retargeting pixels into your links with step-by-step instructions. It also enables you to create branded smart pages in seconds with over 100 templates and 20 different block types.
Key features:
GDPR popup
404 redirection
Direct sharing
Tags management
Link rotator
Georedirection
Full tracking – analytics features
Unlimited links
150+ deep links integration
Embed widgets on any links
Add a note to monitor campaigns
Messenger links
Chrome extension
Link reedition and redirection
Custom slugs
UTM builder
Files manager
Pricing:
Single: $39
Double: $78
Multiple: $117
👉 Learn How to Use WriterZen: The Proficient SEO Content Writing Software
Cuttly
Cuttly is a custom URL shortener that enables its users to get all linking requirements. This advanced URL Shortener provides extensive Link Analytics to offer you an all-in-one solution for link management. Additionally, Cuttly is also an excellent platform for creating your own microsites for Link in Bio and generating QR Codes, combining offline and online solutions for a seamless experience.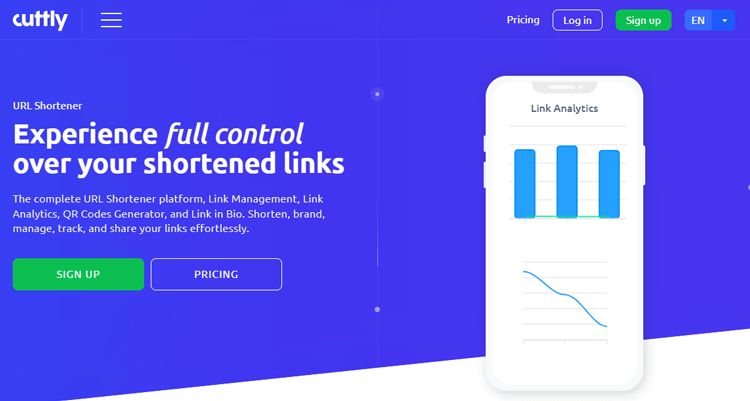 The platform allows supervisors to set parameters such as the date and number of clicks to manage link expiration. Teams can also create password-protected links and define UTM parameters to analyze social media marketing effectiveness. It also offers the ability to include tags, comments, and descriptions in shortened URLs.
Key features:
URL Shortener
Link analytics
Link branding
UTM builder
Link in bio
QR Codes
Pricing:
Annual plan-
Free: $0
Single: $22.91/month
Team: $90.75/month
Team Enterprise: 136.58/month
Monthly Plan-
Free: $0
Single: $25/month
Team: $99/month
Team Enterprise: 149/month
👉 Get Best Lifetime Software Deals: Save Hundreds of Dollars on the Top Software Programs
Which of the Sniply alternatives is the best tool
We have already discussed the top 5 Sniply alternatives that offer distinct features aimed at benefiting marketers. The most suitable Sniply alternative is the one that meets your particular requirements. To find the best one, simply do research on their features, reviews, alternatives, and pricing options.
Frequently Asked Question
Why Content Sharing is Important in a digital landscape
If you aim to establish your brand's presence, boost audience engagement, and drive sales, content social media sharing is crucial. Below are seven reasons why content sharing is important:
Gaining a deeper understanding of your ideal customer
Fostering audience loyalty and retention
Increasing lead generation and conversion rates
Improving search engine optimization (SEO)
Expanding brand recognition and widening your reach
Demonstrating expertise and authority in your industry
Cutting costs and improving ROI in digital marketing
Does Sniply have free trial offers?
Of course, Sniply provides 14-day free trials. Previously, the entry point for Sniply was $29, which was too expensive for most users. By offering more value and reducing the price, there was limited room for a free account with restrictions.
What are the Sniply Alternatives free tools?
If you are searching for free alternatives to Sniply, we would like to suggest the top 5 recommendations for you.
Bitly.
Rebrandly
Switchy
Google Analytics.
ActiveCampaign for Marketing.
SE Ranking.
Anyword.
Conclusion
Using Sniply is an enjoyable approach to promoting your business without constantly posting your own content. However, it's recommended to explore other deal outlets as well because there's a possibility that they may offer an even better feature than what's available on Sniply.