Are you looking to elevate your sales game? If so, then you need the right tools and software solutions at your disposal. In the world of Sales CRM Tools, Clodura.ai is known for its reliable performance and intuitive platform features – but it's not the only option.
In this blog post, we'll take a look at 5 of the best Clodura AI alternatives to help put your tools or service in front of potential customers faster than ever before. So read on if you want to find out how.
The importance of sales CRM tools
Customer relationship management (CRM) tools are valuable for optimizing workflow, enhancing sales effectiveness, and driving customer engagement. The importance of CRM tools on sales is given below:
Optimize efforts and increase efficiency: CRM software enhances your organization's sales performance by simultaneously boosting revenue, reducing expenses, and enhancing the overall customer experience.
Help you get to know your target market in a deeper way: An effective CRM Software enables you to monitor your campaigns, identify the most profitable marketing activities, and determine your clients' preferred social networks.
Tailored and Enhanced Experience to Customers: CRM tool enables you to monitor your sales progress, identify and address customer issues, and effectively manage your sales team.
Improve and Gain More Valuable Insights: Managing high-volume data and staying on top of all the information can be challenging, leading to potential oversights. However, with the assistance of CRM, you can effortlessly identify trends and prioritize critical issues.
Automate Repetitive Tasks and Gain More Time: By automating repetitive tasks through CRM, you can streamline operations, increase efficiency, and dedicate your resources towards strategic growth and expansion. Additionally, automating business processes can significantly contribute to time savings.
Brief overview of Clodura.AI and its features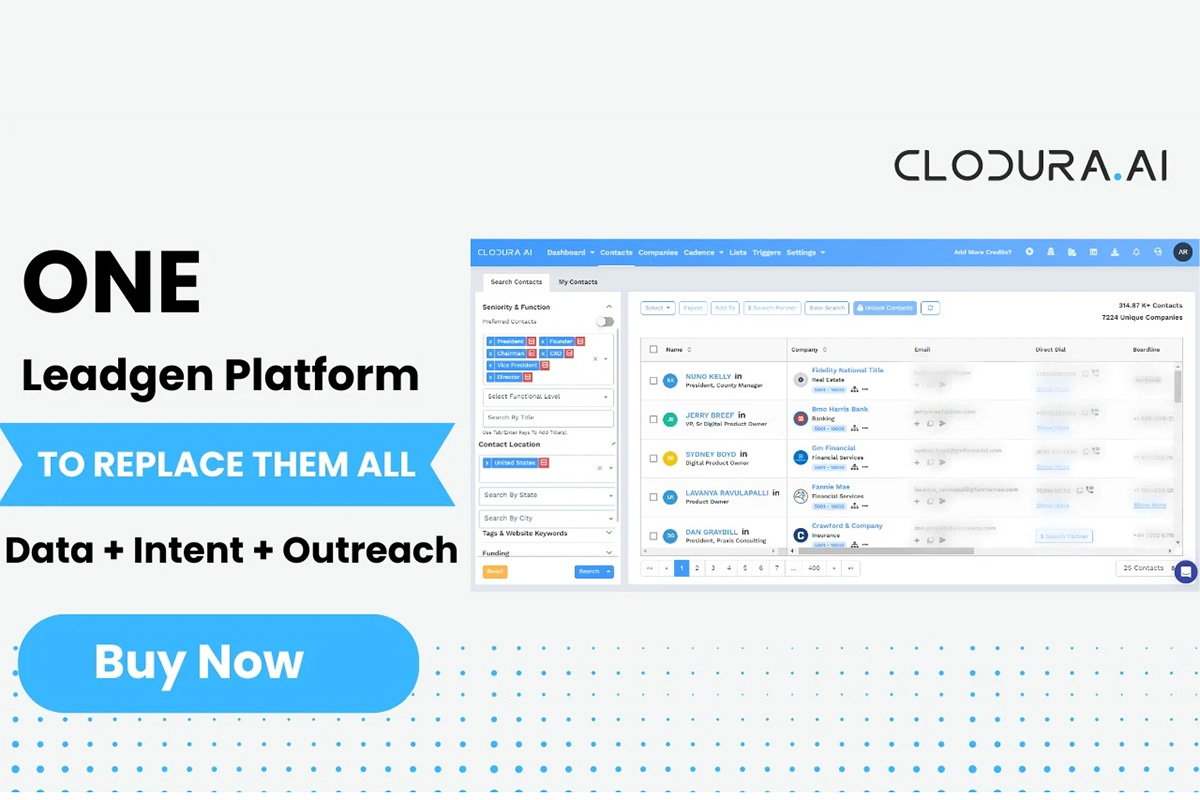 Clodura is an AI-driven platform designed for lead generation. Its primary objective is to assist you in generating meticulously targeted sales qualified leads. The platform offers unrestricted access to a vast database, encompassing clean B2B prospect data for over 600 million contacts and 18 million companies. Additionally, with access to more than 120 million direct dial numbers, Clodura.AI empowers you to connect with your prospects swiftly.
It offers a powerful Org Chart feature that empowers sales teams to identify and target key decision-makers within organizations precisely. It also provides a comprehensive calling feature that seamlessly integrates with users' CRM systems, enabling the addition of tasks and follow-ups. Furthermore, Clodura.AI goes beyond basic contact information by providing technographic insights into companies.
Key features:
Lead Builder
Integration to CRM/Marketing Automation
Data Cleaning/Enrichment
Data Segmentation/Filtering
Sales Intelligence
Reporting
Org chart
Recommended Blog for You:
👉 Discover the 6 Best B2B Lead Scraper Tools
👉 AppSumo Originals: A Comprehensive Review
👉 How to Use Support Genix for WordPress: A Comprehensive Guide
Why Consider Clodura AI Alternatives?
While Clodura.AI offers a range of valuable features and benefits, it's important to consider alternatives to ensure you choose the best solution for your specific needs. Here are a few reasons why you might consider exploring Clodura.AI alternatives:
Different Feature Set: Each AI-powered lead generation platform has its own unique set of features and capabilities. Exploring alternatives allows you to compare and assess whether other platforms offer specific functionalities that align better with your requirements.
Pricing and Scalability: Clodura.AI's pricing structure may not suit every budget or business size. Considering alternatives allows you to explore different pricing models and scalability options that better align with your financial constraints and growth plans.
Specific Industry Focus: Depending on your industry or niche, there may be alternatives to Clodura.AI that specialize in providing lead generation solutions tailored specifically to your industry. These alternatives may have a deeper understanding of your target audience and industry dynamics.
Integration and Compatibility: If you rely heavily on specific CRM or marketing automation tools, it's essential to evaluate how well Clodura.AI integrates with your existing systems. Exploring alternatives allows you to find solutions that seamlessly integrate with your preferred software stack.
User Experience and Support: The user experience and quality of customer support provided by Clodura.AI may not align with your expectations. By considering alternatives, you can evaluate user reviews and testimonials to find a platform with a user-friendly interface and responsive customer support.
Identify key factors or features to consider when comparing alternatives
When comparing alternatives, there are several key factors or features to consider:
Functionality: Evaluate the functionality of each alternative and determine if it meets your specific needs. Consider whether it offers the necessary features and tools required to accomplish your goals.
Ease of Use: Consider the user-friendliness of the alternatives. Interface intuitive and easy to navigate can be able to adapt to the new platform without extensive training quickly.
Integration Capabilities: Assess the integration capabilities of the alternative. Compatibility with other software you use can greatly enhance your workflow efficiency.
Security: Make sure that the alternative solution offers strong security measures to safeguard your data and sensitive information. Look for features like encryption, access controls, and compliance certifications to protect your valuable assets effectively.
Customization Options: Determine if the alternative allows for customization to align with your branding and preferences.
Pricing: Compare the pricing structure of each alternative and evaluate if it aligns with your budget.
Customer Support: Evaluate the quality of customer support offered by each alternative. Seek responsive and knowledgeable support teams capable of promptly assisting you with any concerns or inquiries that may arise.
User Reviews and Feedback: Research user reviews and feedback for each alternative to gain insights into other customers' experiences.
Future Development and Updates: Explore the track record of the alternative in terms of updates and ongoing development. A solution that continuously improves and introduces new features indicates a commitment to staying relevant and meeting evolving user needs.

Top 5 Clodura.AI Alternatives
HubSpot Sales Hub
The HubSpot Sales Hub is a powerful suite of tools designed to enhance sales processes and empower sales teams to drive revenue growth. With its comprehensive features and functionalities, it equips businesses with the necessary tools to streamline sales operations, improve productivity, and close deals more effectively.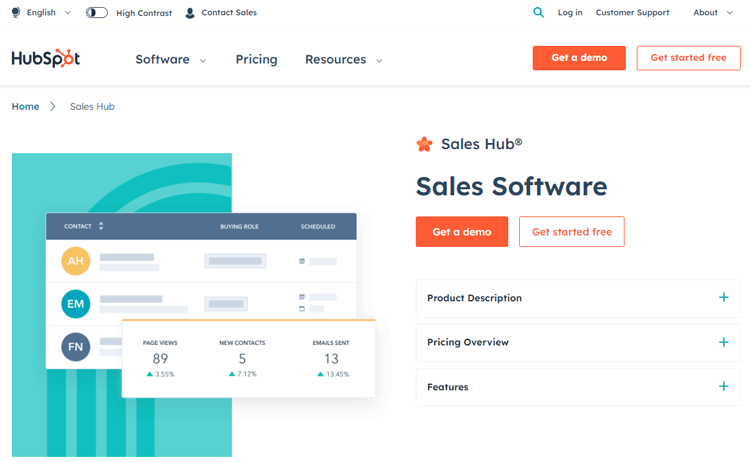 The HubSpot CRM platform, where customer data, tools, and teams effortlessly connect, offers unparalleled productivity for salespeople. Sales representatives can obtain improved insights, warmer leads, and coordinated enablement materials by accessing the whole CRM platform, allowing them to work as efficiently as possible.
With this tool, scaling your company becomes seamless. Whether it's strategies, services, or software, HubSpot offers everything you need to achieve substantial growth while minimizing complexity.
Features:
Email Templates
Email Tracking
Document Management & Tracking
Sales Intelligence
Call Tracking
Sales Automation
Benefits of using HubSpot Sales Hub as a Clodura.AI alternative
Sales Engagement and Documentation Tools: HubSpot's Sales Hub provides diverse sales engagement tools that effectively expand outreach to prospects.
Email Tracking: Email tracking is an essential tool that enables you to track the effectiveness of your email communication.
Live Chat & Conversation Intelligence: Real-time engagement with leads enables you to establish a connection and rapport, potentially expediting the sales process.
Contact Management & Predictive Lead Scoring and Grading: With the contact management feature of Hubspot SalesHub consolidates all your leads into a single, user-friendly location, providing convenient access to all the necessary information.
Reporting and Analytics: By utilizing the reporting and analytics feature of this tool, you can effectively track your progress, gain insights into the factors that contribute to your closed deals, and ultimately refine your sales strategy.
Integration with Other Tools: A standout feature of HubSpot Sales Hub Enterprise is its seamless integration with various tools, including Gmail, Outlook, and more.
Custom Objects: Custom objects within your sales solution offer the flexibility to tailor them according to your business's specific requirements, allowing you to track all the necessary information in a centralized location.
👉Learn What is useArtemis? A Comprehensive Guide to This Lead Generation Tool
Seamless.AI
Seamless.AI is a powerful lead management solution that offers a wide range of features to help businesses optimize their contact search, market research, lead conversion, and data importing processes. By providing a centralized platform, it enables businesses to streamline their operations and enhance their overall efficiency.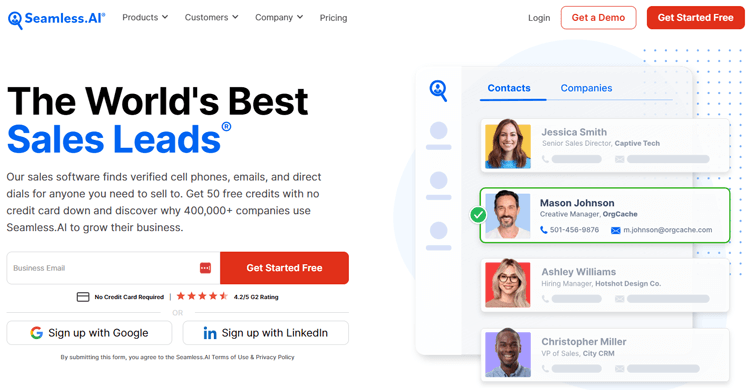 One of the standout features of Seamless.AI is its pitch research tools, which allow team members to conduct thorough account research based on various parameters. This empowers users to gather valuable insights and make informed decisions when reaching out to potential leads.
It also simplifies the task of managing and updating contact information through its automatic address book feature. Staff members can effortlessly add and update contact details such as names, company information, designations, email addresses, and phone numbers.
Features:
Lead Builder
Integration to CRM/Marketing Automation
Data Cleaning/Enrichment
Data Segmentation/Filtering
Search
News/People Alerts
Connections
Benefits of using Seamless.AI as a Clodura.AI alternative
Extensive Data Coverage: Seamless.AI provides access to a vast database of B2B contacts, allowing users to find and connect with decision-makers across various industries.
Verified and Accurate Data: Using its AI technology to verify contact information, ensuring the accuracy and validity of the data.
Seamless Integration with CRM Systems: It integrates seamlessly with popular CRM systems like HubSpot and Salesforce. This integration enables users to synchronize their prospect data effortlessly, ensuring a streamlined workflow and centralized management of contacts.
Advanced Filtering Options: Seamless.AI offers advanced filtering options, such as revenue, industry, and more, allowing users to refine their search and focus on their target audience.
Cost-Effective Solution: Seamless.AI offers flexible pricing options, including monthly and annual subscriptions, making it a cost-effective choice for businesses of all sizes.
Direct Dialing and Email Verification: With this platform, users can directly dial potential clients in real time, improving the chances of immediate engagement and connection. Additionally, the platform offers email verification, enabling users to send messages to verified email addresses, enhancing deliverability and response rates.
Dedicated Customer Support: Seamless.AI provides support to its users through various channels, including phone, email, documentation, and online resources.
👉Read How to sell Product on Appsumo: Step-by-step Guideline
LinkedIn Sales Navigator
Sales Navigator is a comprehensive sales platform that empowers sales professionals to engage in virtual selling and cultivate relationships with buyers on a large scale. Serving as a crucial component for modern B2B sales teams, Sales Navigator seamlessly integrates with other sales technologies, including CRM systems, to provide a solid foundation of accurate and up-to-date data.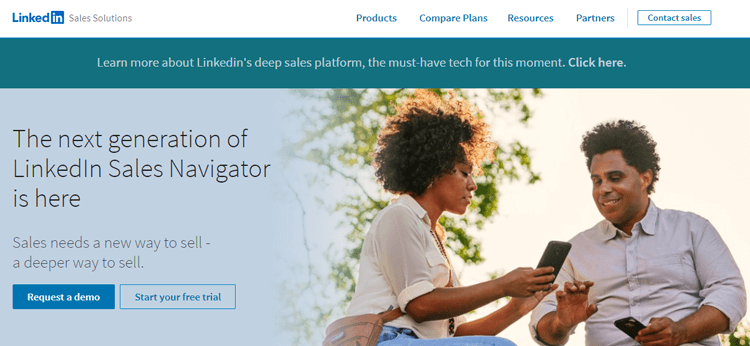 It offers a robust suite of search functionalities, enabling users to conduct targeted searches and identify potential leads efficiently. The platform also provides enhanced visibility into extended networks, allowing sales professionals to explore connections beyond their immediate contacts. This expanded network visibility opens new opportunities and facilitates outreach to the right decision-makers.
Features:
Lead recommendations
Advanced search
Account and lead insights
InMail
Sales Navigator pages
Benefits of using LinkedIn Sales Navigator as a Clodura.AI alternative
Extensive Professional Network: LinkedIn Sales Navigator grants you access to a vast network of professionals, with over 750 million members worldwide.
Reliable and Up-to-Date Data: Sales Navigator leverages LinkedIn's trusted platform, ensuring that the data you access is reliable and up-to-date.
Advanced Search Capabilities: It provides powerful search functionalities, allowing you to conduct targeted searches based on specific criteria such as industry, company size, job title, and more.
Expanded Network Visibility: This tool gives you enhanced visibility into extended networks beyond your immediate connections. Expanding your network in this way can significantly enhance your prospecting efforts.
Personalized Recommendations and Insights: It utilizes personalized algorithms to offer tailored recommendations and insights. These algorithms analyze user behavior and data to suggest leads and decision-makers most likely to engage and convert.
Seamless CRM Integration: Sales Navigator integrates seamlessly with popular CRM systems, including Salesforce, Microsoft Dynamics 365, and HubSpot CRM.
InMail Messaging: It also includes sending InMail messages directly to prospects, even if you're not connected.
Sales Insights and Notifications: This platform provides real-time updates and notifications about key activities and changes within your target accounts.
👉View CRM Lifetime deals – The Best 5 Deals With Exclusive Offers
Lusha
Lusha is a go-to-market intelligence platform that caters to sales, marketing, and recruitment teams. It offers a range of features and services to help businesses connect with the right people and make informed decisions.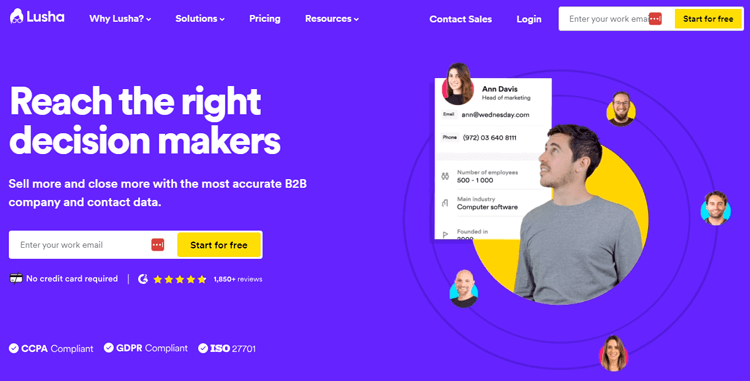 One of Lusha's key strengths is its emphasis on providing fresh, dynamic, and high-quality data and insights. By leveraging its extensive database, Lusha helps users cut through the noise and reach the most relevant individuals at the right time, enabling effective communication and targeted outreach.
With its simple Salesforce and API integrations, users can quickly and easily establish connections, ensuring a continuous flow of accurate and up-to-date information in their CRM systems. This automation reduces manual data entry efforts and ensures the database is enriched with valuable information.
Features:
Lusha extension to find contact data on the web
Prospecting platform to build lists
API that enriches systems with data
Integrations for streamlined workflow
Automatic data enrichment
Benefits of using Lusha as a Clodura.AI alternative
Fresh and Dynamic Data: Lusha provides access to a fresh and dynamic database, allowing you to reach the right people at the right time.
Seamless Integration: It offers easy integration with Salesforce and APIs, ensuring a smooth and streamlined setup process. By integrating Lusha into your existing systems, you can maintain a fresh and enriched database while reducing manual data entry efforts.
Hassle-Free Setup: Lusha eliminates the need for lengthy onboarding processes, allowing you to get up and running quickly.
Compliance with Privacy Regulations: This tool prioritizes privacy and ensures compliance with important regulations such as GDPR and CCPA.
Enhanced Go-to-Market Strategies: With Lusha's comprehensive go-to-market intelligence, you can make more informed decisions and optimize your outreach efforts.
Improved Efficiency and Productivity: By leveraging Lusha's automation and data enrichment capabilities, you can save time and resources.
👉Check Frase vs WriterZen: A Comprehensive Comparison
Zoho CRM
Zoho CRM is a powerful tool for Customer Relationship Management platforms to help businesses effectively manage their sales, marketing, and customer support processes. It serves as a centralized hub for storing and managing customer information. This consolidated view enables teams to understand their customers better and personalize interactions.

With Zoho CRM, you can establish connections through ten diverse channels, encompassing email, live chat, social media, self-service portals, and web conferencing. It also analyzes email statistics, gains deep deal insights, and more, to identify your most profitable customers in real time.
Creating comprehensive sales reports requires zero technical skills with this platform. Seamlessly transform raw sales data into visually appealing charts and graphs without the need for design or coding expertise.
Features:
Sales Force Automation
Canvas Design Studio
Process Management
Journey Orchestration
Omnichannel
Analytics
Sales Enablement
Performance Management
Predictive Sales
Customization
Marketing Automation
Team Collaboration
Remote work
Benefits of using Zoho CRM as a Clodura.AI alternative
Simple and Easy to Use: The platform boasts a simple and intuitive interface, allowing users to navigate and utilize its features efficiently. Moreover, Zoho CRM offers extensive customization options, enabling businesses to tailor the system to their specific needs.
Automation of Tasks to Save Time and Costs: Zoho prioritizes automation and the optimization of data and processes, eliminating the need for multiple-user spreadsheets and repetitive tasks.
Omnichannel Communication: Zoho CRM is purposefully designed to cater to the modern online work environment, ensuring seamless and hassle-free remote work. The platform seamlessly integrates with various popular web meeting and conferencing applications.
Integration with Third-Party Applications: This tool is designed to integrate with various third-party applications seamlessly. It offers an open API, enabling secure access and interaction with your company data across other applications or cloud systems that your business already utilizes.
Reports, Insights, and Analytics: With Zoho CRM's robust reports, analytics, and forecasts, you can effectively measure the performance of every sales activity and break down quotas into attainable targets.
Transparent and Affordable Pricing: With Zoho's suite of tools, you can effectively organize your processes, streamline workflows, and elevate your startup to the next level without depleting your budget.
👉Learn How to Use WordHero AI Writing Tool: The Ultimate Guide
Frequently Asked Questions
Can Clodura.AI alternatives seamlessly integrate with our existing sales tools and CRM systems?
Yes, Clodura.ai alternatives seamlessly integrate, but the integration capabilities can vary depending on your specific tools and CRM systems. Many sales intelligence software and CRM platforms offer integrations with popular CRM systems like Salesforce, Microsoft Dynamics, HubSpot, and Zoho CRM.
Why would I consider alternatives to Clodura.ai?
There can be several reasons why you might consider alternatives to Clodura.ai. Here are a few possible scenarios:
1. Feature Suitability
2. Pricing and Cost
3. Scalability and Customization
4. User Experience and Interface
5. Customer Support and Reliability
How can I choose the right Clodura.ai alternative that aligns with the specific needs and goals of my business?
Choosing the right Clodura.ai alternative that aligns with your business needs and goals requires a systematic evaluation process. Consider the following guidelines to assist you in making a well-informed decision:
1. Identify Your Requirements
2. Research and Shortlist Clodura.ai alternatives
3. Evaluate Features and Functionality
4. Consider Integration Options
5. Trial and Demo
6. Consider Scalability and Support
7. Cost Analysis
8. Gather Feedback and Reviews
How do Clodura.ai alternatives differ from Clodura.ai itself?
Clodura.ai alternatives are other sales intelligence software solutions that serve a similar purpose as Clodura.ai. While they may share some common goals and functionalities, there can be differences between Clodura.ai and its alternatives. Here are some potential areas of differentiation:
1. Features and Functionality
2. User Experience and Interface
3. Integration Capabilities
4. Data Accuracy and Coverage
5. Pricing and Cost Structure
6. Customer Support and Reliability
Conclusion
When seeking Clodura.AI alternatives, it's important for your business to choose the best alternative. In this article, we have provided a concise overview, highlighting the features and benefits of five outstanding Clodura.ai alternatives.
These alternatives cater to the diverse needs of sales professionals and teams, each offering its own distinctive set of features and strengths. By carefully evaluating these Clodura.ai alternatives based on your specific requirements, you can identify the most suitable solution to drive your sales success.